Julia Holter is one of the most transcendent artists we know. She soars in boundless beauty to new worlds beyond standard song. We are overjoyed to witness her trajectory as she rises to universal acclaim and continues to reach new ears. We are grateful to call Julia part of the dublab family. We hope you enjoy this exploration of one of LA's most unique voices.
To kick off this artist profile please enjoy this live in-studio performance record as past of dublab's bi-annual Proton Drive Fundraiser Broadcasts. dublab is listener supported and audience donations allow us to provide a platform for inspired artists such as Julia to share their music.
Download
Julia Holter – Where The Mission Bells Are Chiming (Down Beside The Sea)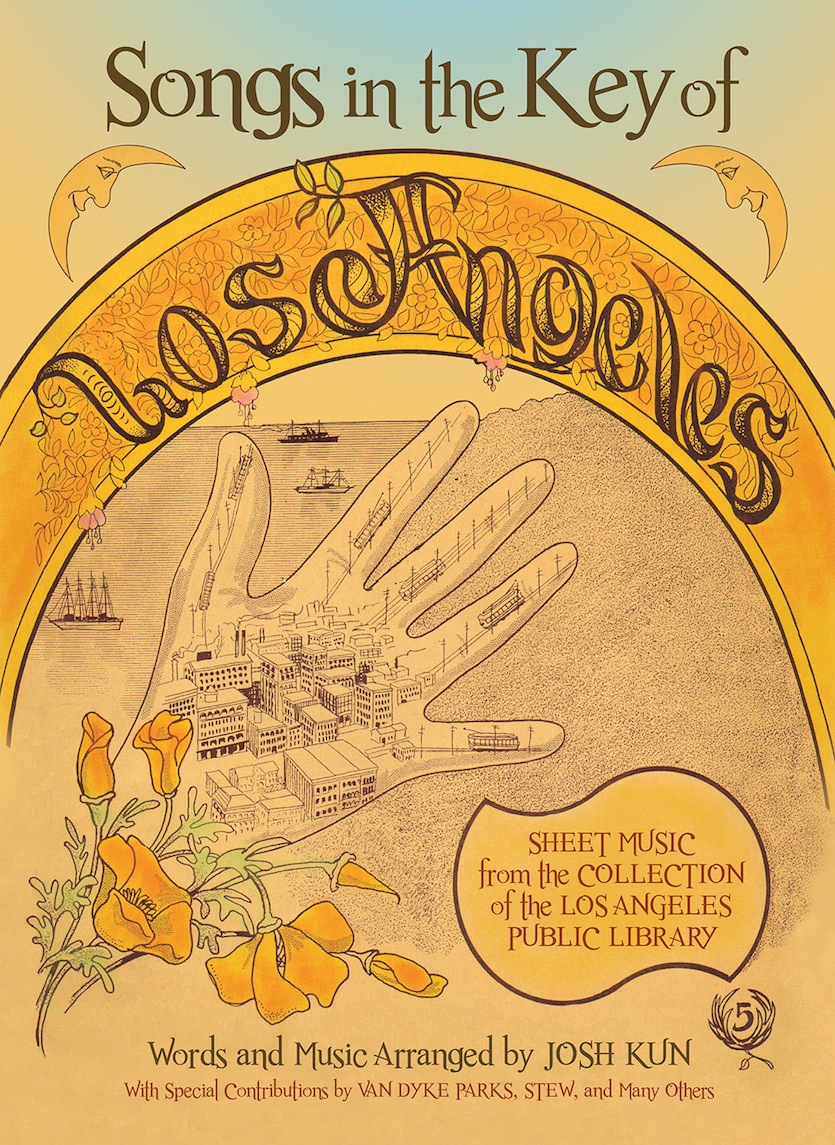 dublab board member, musical investigator and all around stellar gentleman, Josh Kun cracked open the Los Angeles Public Library archive of Southern California sheet music to share its bounty. The resulting book "Songs in the Key of L.A.," reveals a picture of our warm land as painted through song. Manifesting further as a living sonic artifact, the sunny odes have been newly recorded by current LA artists. dublab's longtime musical colleague Julia Holter chose to cover the 1915 composition "Where the Mission Bells Are Chiming (Down Beside the Sea)" which we proudly offer to you now. Hear the entire collection of recordings here and check out the documentary video filmed at Bedrock.LA below.
Download MP3
Light From Los Angeles: Julia Holter & Nite Jewel
This is a document of vibrant creativity from an inspiring city.  It is an audio/visual snapshot of artists making bright waves.  We have invited our favorite LA musicians to each contribute an original song with an accompanying film shot exclusively on Digital Harinezumi cameras.  These compact devices perfectly capture the magic light of Los Angeles.  The resulting music videos are a modular film experience that can be reshuffled for each viewing.  
The Light from Los Angeles songs and films are available to the public under a Creative Commons Attribution-Noncommercial copyright license, allowing for open, not-for-profit distribution and repurposing of the material.  Those inspired by the project can remix the material into amazing, new forms.  Our goal is to share intimate artistic impressions from our city and in the process inspire others to create.  Light from Los Angeles is a glowing reflection of golden creativity. Enjoy this contribution from Julia Holter & Nite Jewel.
Light From Los Angeles INTERVIEW: Julia Holter & Nite Jewel
JULIA HOLTER – LIVE AT DUBLAB'S "SHIMMER" AT SEA & SPACE EXPLORATIONS (02.27.10)
Julia Holter and Jesselisa Moretti paired up to perform at dublab's "Shimmer" happening which occurred as part of Reclamation Project's "Aquarium" installation. These ladies are a creative match made in the upper reaches of heaven which in this case we are convinced exists under the sparkling surface of the sea. This session will melt you into a puddle of pure light. Jesselisa's visuals have a flowing, feminine vibe that are totally far out. When paired with Julia's free floating music it's mesmerizing magic. Keep your eyes open for Julia Holter's full length album on Leaving Records.
DOWNLOAD SESSION
Julia Holter – Live at dublab's Tonalism at Music Gallery, Toronto (06.09.11)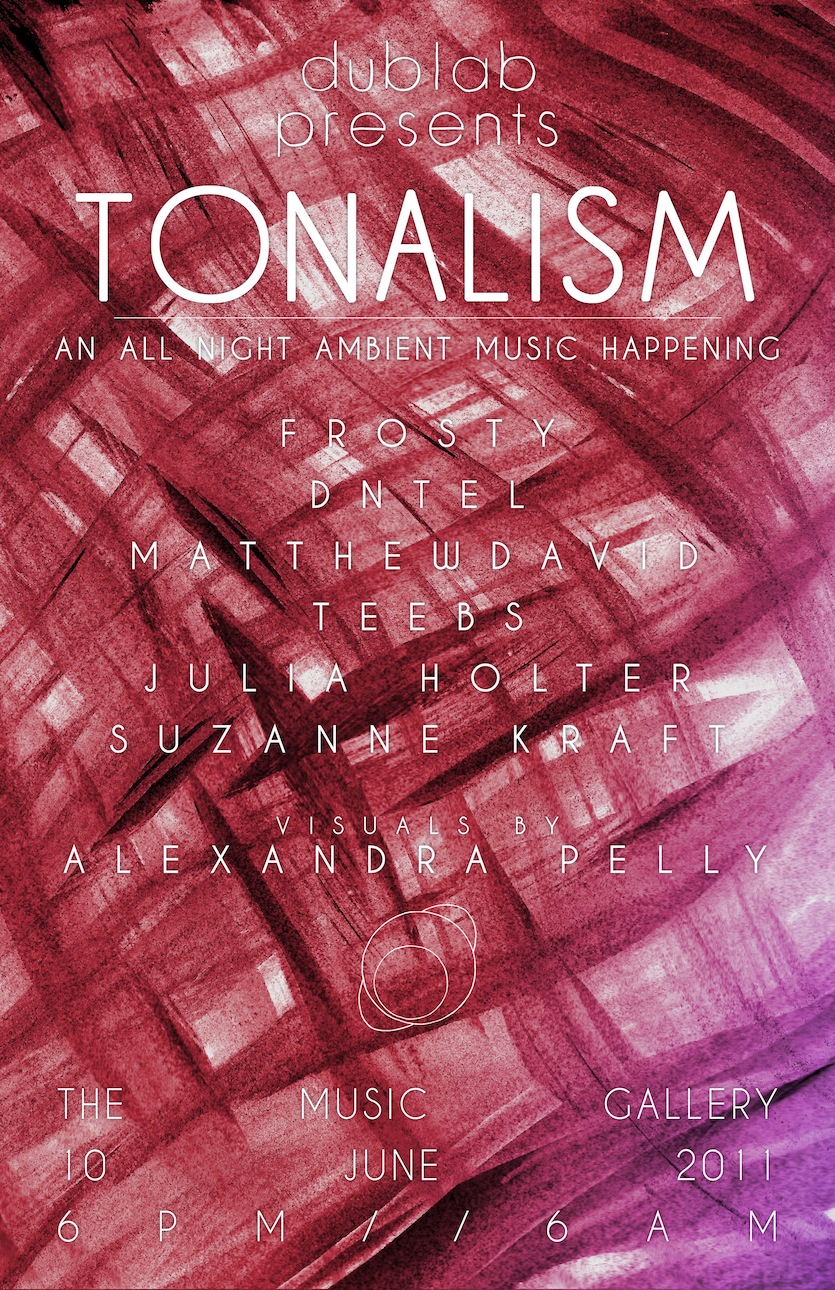 dublab's Tonalism happening is a dusk-to-dawn event inspired by La Monte Young's "Dream House" as well as the work of musicians and composers such as Terry Riley, Yoko Ono and John Cage. Tonalism combines harmonious textures in a surround sound system with visual elements to create an atmosphere where the audience is encouraged to bring pillows, cushions and sleeping bags to lay down, listen and watch for an extended period of time. DJs, live musicians and video artists play and perform throughout the night; starting at sunset and ending at sunrise. Complimentary tea and water are provided to all who attend.
In June of 2011 we brought Tonalism to Toronto's Music Gallery. It served as the Season Closing Fundraising Event for the Music Gallery and transformed St. George the Martyr Church into an immersive, multi-media experience. Julia Holter performed live alongside Matthewdavid, Suzanne Kraft, Teebs, Dntel and Frosty provided music while Alex Pelly created the live visual projections.
Download Live Set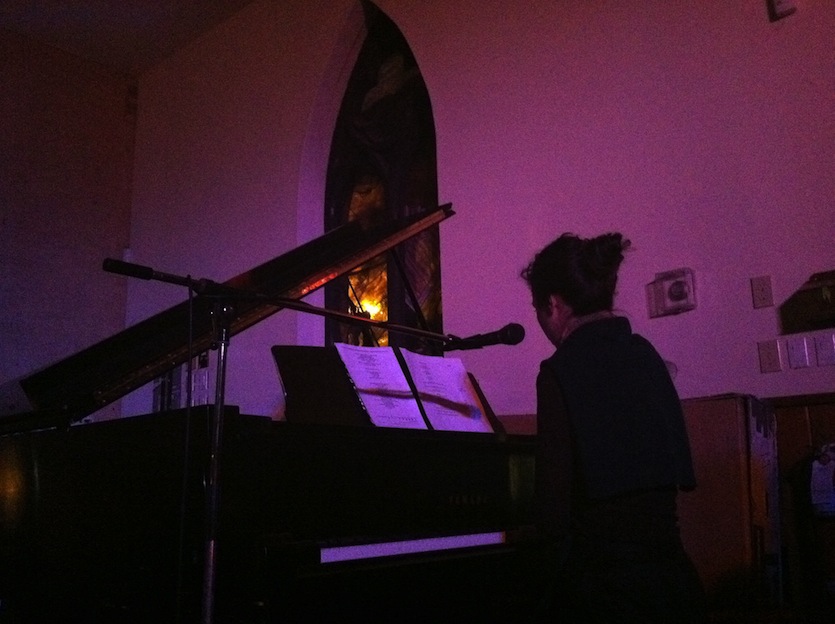 JULIA HOLTER – LIVE DUBLAB "SPROUT SESSION" (05.13.08)
DOWNLOAD SESSION
Julia closed out the dublab "HANDS-ON" Proton Drive with an beautiful early morning voice and harmonium set. She always amazes our ears with her incredible melodic adventures through magic minimalism.
myspace.com/juliaholter / Julia on Human Ear Music
JULIA HOLTER – LIVE DUBLAB "SPROUT SESSION" (11.24.07)
DOWNLOAD SESSION
The way beyond wonderful Julia Holter came to dublab and performed one of the most beautiful sets we've ever heard soar from our studio. Dive deep into these incredible waves.
myspace.com/juliaholter / Julia on Human Ear Music
Linda Perhacs Band – Live Set
Linda Perhacs is an artist who thinks far outside the realm of the obvious. Our astonished love of her timeless album "Parallelograms" will never fade. We feel so incredibly honored to have connected with her personally and to have co-presented her first ever live, public performance as part of dublab's 10th anniversary celebration. She connected with many talented, progressive musicians as a result of that concert and has since been performing live and recording new music. Linda and her band composed of Julia Holter, Michelle Vidal and Aaron Robinson blessed our studio for a live performance in support of dublab's "Sounds of Symmetry" Proton Drive fundraiser. We hope you enjoy these live versions of Linda's classic songs "Chimacum Rain" and "If You Were My Man" performed by this trio of young talents.
Download Live Set